Sharetrade have been manufacturing and supplying artificial trees, flowers and foliage for 15 years and have an established reputation for premium grade products with an incredibly realistic appearance. Expertly crafted from the finest materials, our artificial plants expresses a unique artistic vision inspired by nature. Our creations are every bit as pretty as a fresh bouquet and they'll brighten your space for a lot longer.

Sharetrade Artificial Fern Plants
Fill your home with colour and life all year round with our maintenance-free Sharetrade Artificial Fern Plants. This life-like plant will bring a spring feeling to any living space.

This stunning artificial plant give it an abundant and fresh look. Making up part of the more modern take on new style, you'll be able to enjoy this plant with no maintenance required. Add a bright planter and you've got an eye-catching piece. Breathe life into any room or space with Sharetrade's natural and gorgeous collection of artificial plants. If you're a plant lover, you're sure to become obsessed with our high quality, real touch artificial indoor & outdoor plants and artificial trees.

For bespoke options, please contact us.
e-mail:
[email protected]
Tel: +
86-13860128053
Website:
https://www.startificialplant.com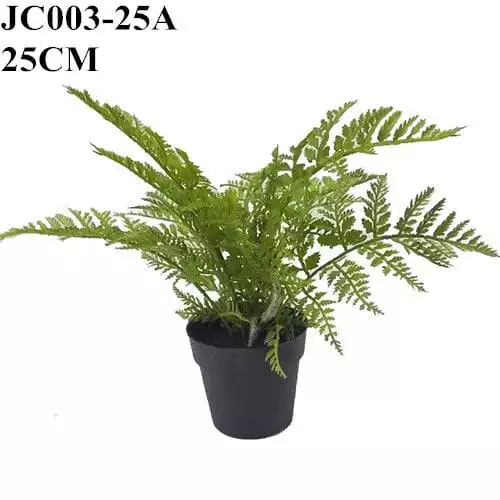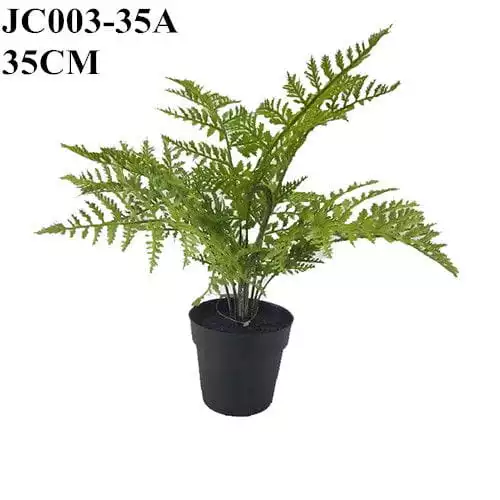 Artificial Fern Bonsai

NO.

Item NO.

Picture

Name

Size

MOQ

Packing size (CM)

CBM

1

JC003-25A

Fern Bonsai

25CM

100PCS

65*38*12/12PCS

0.03

2

JC003-35A

Fern Bonsai

35CM

100PCS

65*42*12/12PCS

0.03

3

JC003-40A

Fern Bonsai

40CM

100PCS

72*50*13/12PCS

0.05

4

JC003-50A

Fern Bonsai

50CM

100PCS

65*65*13/12PCS

0.05

5

JC003-60A

Fern Bonsai

60CM

100PCS

80*80*15/12PCS

0.10

6

JC003-75A

Fern Bonsai

75CM

100PCS

85*42*15/6PCS

0.05

7

JC003-90A

Fern Bonsai

90CM

100PCS

110*45*16/6PCS

0.08

8

JC003-105A

Fern Bonsai

105CM

100PCS

123*35*17/4PCS

0.07

9

JC003-120A

Fern Bonsai

120CM

100PCS

143*35*17/4PCS

0.09
For instock fern plants, please see the PDF file at: Sharetrade Instock Artificial Plants - PDF